Paddington cabin bed various colours frame only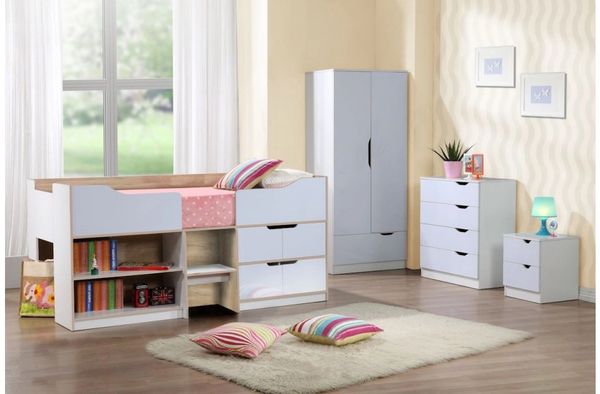 Paddington cabin bed various colours frame only
7-10 working day delivery
Paddington Cabin Bed
A beautifully made cabin bed with plenty of storage space under the sleeping area. The Paddington is available in white with either blue, pink or oak accents and is a great combination of fun and practicality.

Constructed with particleboard, the Paddington is laminated with PU paper foil and high-gloss PVC colour.

This frame has a solid base for additional sturdiness and comfort.

The maximum mattress height for the Paddington cabin bed is 150 mm.
Dimensions & Instructions
Sub Type
Product Code
Colour
Quantity of Stock
Size
Headboard Height
Footboard Height
Width
Length
Weight
Clearance
# of Boxes
Assembly Instructions
360 View
Assembly
Paddington Cabin Bed White & Pink (PADB3PNK)
+
Sub Type

Bed

Product Code

PADB3PNK

Colour

White & Pink

Quantity of Stock

25

Size

3ft

Headboard Height

930mm

Footboard Height

930mm

Width

952mm

Length

1950mm

Weight

104.60kg

Clearance

590mm

# of Boxes

4

Instructions

360 View

-

Assembly Instructions

-
Paddington Cabin Bed White & Blue (PADB3BLU)
+
Sub Type

Bed

Product Code

PADB3BLU

Colour

White & Blue

Quantity of Stock

22

Size

3ft

Headboard Height

930mm

Footboard Height

930mm

Width

952mm

Length

1950mm

Weight

104.60kg

Clearance

590mm

# of Boxes

4

Instructions

360 View

-

Assembly Instructions

-
Paddington Cabin Bed White & Light Oak (PADB3OAK)
+